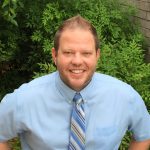 Graham Fletcher has worked in education for over ten years as a classroom teacher, math coach, and currently as a district math specialist. He graduated from the University of Georgia where he earned his specialist degree in Math Education. Graham's passion for conceptual understanding through problem-based lessons has led him to present internationally and throughout the United States. He continues to be an advocate for best practice and a change agent for elementary mathematics.
He is the leading expert in elementary 3 Act Tasks, which you can find here: https://gfletchy.com/3-act-lessons/.  If  you scroll through his twitter page, you will quickly see how much teachers are LOVING using the tasks and they have even gone global!  
Get all the resources, including Graham's PowerPoint HERE.